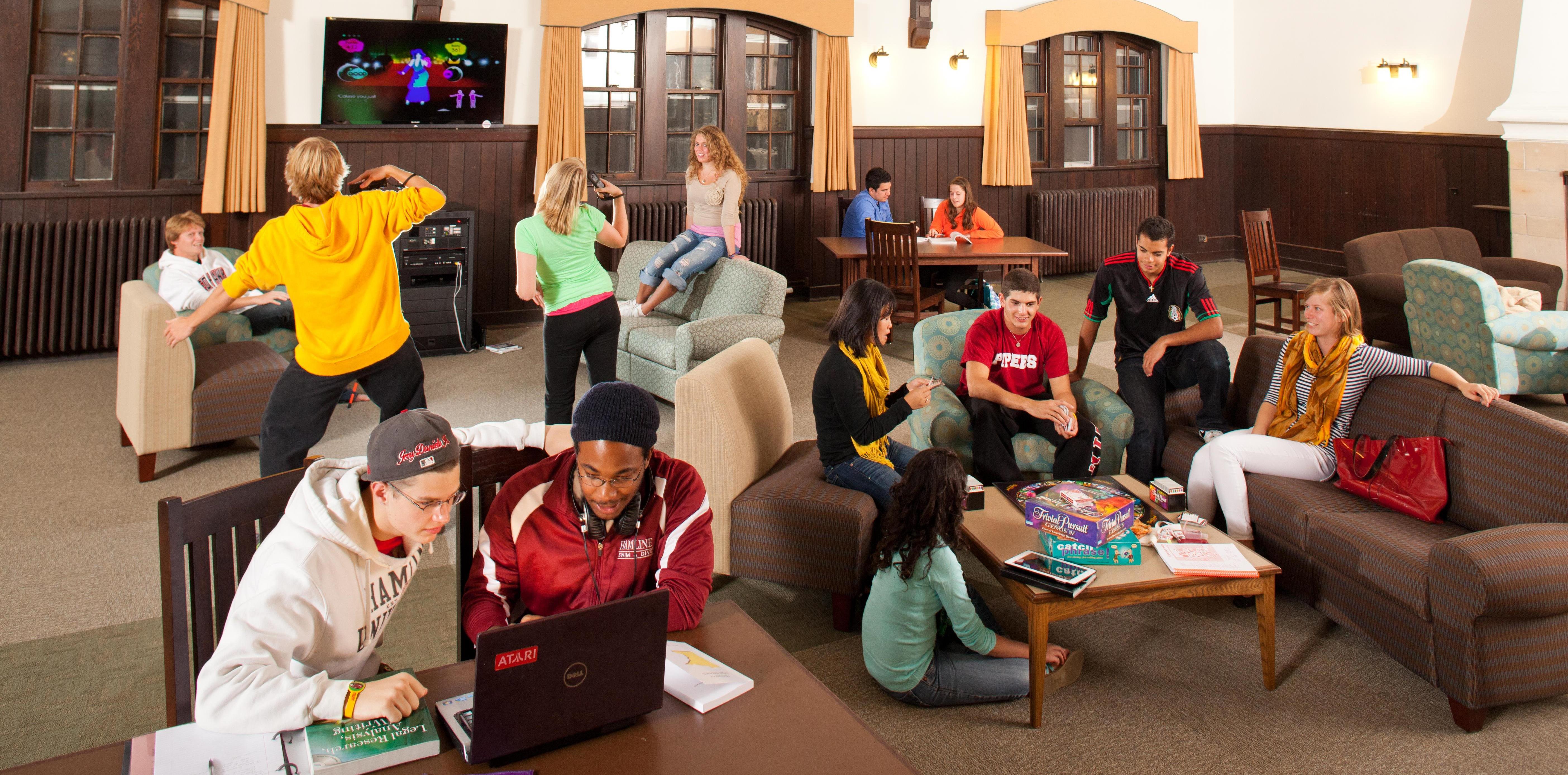 | | |
| --- | --- |
| Facilities | Student Organizations and Programs |
---
Facilities
Campus Buildings
The campus in Saint Paul covers 45 attractive acres with a combination of new and old buildings set with gardens and restful areas. The central symbolic landmark of Hamline's campus is Old Main, built in 1884 and listed in the National Register of Historic Places.
University Center
New in 2012, the Anderson Center houses event and meeting venues, a meditation room, a fireplace and lounge areas, campus dining, campus life offices, a Starbucks coffee shop, a convenience store, an outdoor terrace, and underground parking. The building meets LEED silver standards and features a green roof, solar panels, high performance glass and lighting, site-harvested wood, and recycled building materials.
Bush Library
Much more than a building housing books, the Bush Library and Archives is a center for academic support and a hub of activity. The research and academic support staff located in the building work collaboratively to optimize collections, technologies, expertise, and spaces that support student learning and intellectual exploration.
The library provides quiet study spaces, group study spaces, and various forms of collaborative technologies to facilitate students working on group projects.
Librarians provide assistance to students via drop in research service and by appointment. Research expertise is also available virtually, 24 hours a day/ 7 days a week through chat service. Librarians visit classes to help students get started with their research assignments and to help students navigate the vast world of print and digital information.
A wealth of online and print resources are available to students; many of these resources are available within the building and remotely via the Internet. Other resources are provided through a consortium of Minneapolis/St. Paul academic libraries, or through an extended network of interlibrary loan arrangements with libraries throughout North America.
In addition, students can access the services of the Writing and Communication Center, the Center for Academic Success and Achievement, Information Technology Services (ITS) Central Services Desk, and tutoring services.
Drew Fine Arts Complex
Soeffker Art Gallery - The Soeffker Gallery houses Hamline's Permanent Collection of art featuring historically important artists such as Goya, Picasso, Warhol and DeKooning. The gallery launched its Visiting Artist Program in 2013, which continues to highlight the work of a different visual artist each year. This program seeks to engage the Hamline community of students and faculty to our Studio Arts and Art History Program by introducing artists in an annual lecture and exhibition series.  The gallery also celebrates the work of our Studio Arts and Art History graduating seniors through an annual Senior Thesis Exhibition. 

Anne Simley Theatre - Students of all majors may participate as actors in theatre performances or as a part of the production crews. The 300-seat Simley Theatre is one of the best-equipped college stages in Minnesota. Our facilities include a large scene shop with equipment for both steel and wood construction, the costume shop stores hundreds of period costumes used in performances and our control booth houses state of the art lighting and sound equipment. Every production receives a response from a professional from the Kennedy Center - American College Theatre Festival. A Studio Theatre in Drew Hall serves as the production base for  student directed one-acts and original works. In addition to theatre work, students can audition for the Dance Ensemble. This group performs two fully staged productions each year. Members of the Ensemble also participate in the regional American College Dance Festival and we submit both faculty and student choreography for adjudication. The Department also takes interested students to the US Institute for Theatre Technology (USITT) national conference. At USITT students have the opportunity to meet with graduate school representatives, find out about work opportunities and attend a variety of workshops. In our media lab students develop original projection work, record bands and music and can shoot and edit original films.  The Department provides annual portfolio and audition reviews for major and minor students to help prepare them for transition to the industry.
Sundin Music Hall - There are few small halls in the region that have the acoustics of Sundin Music Hall. It is a prime destination for many of the area's most talented and accomplished musicians as a performance space. It is the home of the University's Music Department and serves as the rehearsal and concert space for the Hamline Orchestra, the Hamline Wind Ensemble, the University Chorale, the A Capella Choir and solo and chamber music performances by students. It is an intimate venue, seating 325 people at capacity - there is not a bad seat in the house. Sundin is home to two seven-foot Steinway pianos and a number of classical music concert series for members of the Hamline community to enjoy.
Athletics and Fitness
Hamline University offers intercollegiate and intramural athletics as well as individual fitness opportunities. From team sports to individual activities, Hamline gives students the opportunity to have fun, get exercise, and form friendships outside of the residence hall and classroom.
The Lloyd W.D. Walker Fieldhouse is one of the highest quality physical activity facilities in the state. In addition to being the main home for gymnastics meets and training facilities, Walker contains three courts for basketball, tennis, and volleyball as well as a strength and fitness training center, and sports medicine center.
Students can also use the building's three racquetball courts, jogging track and swimming pool. Hutton Arena, located adjacent to Walker, is also available for use when it is not in service as the home for the volleyball and basketball teams.
Built in 2004, the Klas Center offers an improved athletic stadium, as well as learning, gathering and meeting spaces. The facility includes a synthetic playing surface for year-round usability and a state-of-the-art nine-lane track. Klas Field is the home for the football, lacrosse, and track and field teams.
Paterson Field, just east of Klas, is the home field for some field events as well as the soccer and softball teams. Hamline Ice Hockey teams practice and compete at the TRIA Rink in Treasure Island Center in Downtown St. Paul. Completed in January 2018, the TRIA Rink is also home to the NHL's Minnesota Wild and the Minnesota Whitecaps of the MWHL.
A member of NCAA Division III and the Minnesota Intercollegiate Athletic Conference, Hamline sponsors 20 sports (Men: baseball, basketball, cross country, football, ice hockey, soccer, swimming and diving, tennis, and track and field. Women: basketball, cross country, fast pitch softball, gymnastics, lacrosse, soccer, ice hockey, swimming and diving, tennis, track and field, and volleyball.)
In recent years, baseball, cross country, and ice hockey teams have won MIAC titles; the women's lacrosse team won the MWLC title in 2017; the women's hockey team became the first MIAC team ever to advance to a title game with a second place finish at the 2019 NCAA Division III Frozen Four; lacrosse has appeared in two consecutive NCAA tournaments and individual Pipers have won national champions in track and field and gymnastics. In addition, the Pipers have also produced several All-Americans and Academic All-Americans.
Student Organizations and Programs
Annual Events and Convocations
During the course of each year, Hamline hosts a wide range of events, bringing in well-known speakers to address specific themes and issues. Many of these events are held during the weekly convocation hours on Tuesday and Thursday mornings, during which no classes are scheduled, to enable students to attend these special programs.
Some of the events include:
Commitment to Community Lecture Series
Mahle Lecture in Progressive Christian Thought
Hamline University Symposium on the Humanities
Hanna Lecture in Philosophy
Howard W. Alkire Symposium in International Business and Economics
International Roundtable Series
Kay Malmstrom Lecture in Physics
National Mock Trial Tournament
Phi Beta Kappa Visiting Scholar Series
Seminar in Contemporary Religious Thought
3M/Ronald A. Mitsch Lecture in Chemistry
Student Congress
Hamline Undergraduate Student Congress (HUSC) is the undergraduate student governing body. Any Hamline undergraduate student may speak on issues before Congress, whether or not one is an elected representative. HUSC's responsibilities include allocating student activities fees to fund student organizations, appointing student representatives to the standing committees of the university to ensure student input into matters of campus governance, serving as the official "voice" of undergraduate students on issues of campus-wide importance, and passing legislation referred to it by student groups, the faculty, or an administrative body.
Student Organizations
Student organizations sponsor a variety of activities on campus. The Student Activities & Leadership Development office supports and works with student organizations, but all organizations  are student-run and exercise a great deal of autonomy. Listed below are some of the undergraduate student groups at Hamline University. More information on all organizations is available at www.hamline.edu/offices/student-activities/student-orgs.html.
Academic
Anthropological Society
Forensic Science Society
Mock Trial Team
Model United Nations
Math Club
Society of Physics Students
Women in Science & Engineering
Advocacy
ALIVE
Feed Your Brain
Feminist Liberation and Intersectionality Coalition
FUSION
Hamline Animal Rights Club
Hamline Environmental Action League
Hamline Students for Peace
Hamline University Student Congress
Hand in Hand
Mental Health Alliance
Peer Wellness Education
Spectrum
Students Preventing Sexual Violence
Arts and Literature
The Fulcrum Journal
Hamline University Radio
Hamline Student Theatre Association
Her Campus
The Oracle (newspaper)
Sculpture Guild
Cultural
Asian Pacific American Coalition
Black Student Collective
Ethiopian Eritrean Student Union
FUSION
Global Student Society
Hamline African Student Association
Hispanic and Latinx Organization
Hmong Student Association
Muslim Student Association
Students of South Asia
Honoraries
Alpha Kappa Delta (sociology, social research, social service)
Beta Beta Beta (biology)
Iota Iota Iota (women's studies)
NRHH (National Residence Hall Honorary)
Omicron Delta Kappa (leadership)
Phi Beta Kappa (honorary scholastic fraternity)
Psi Chi (psychology)
Sigma Beta Delta (business)
Sigma Delta Pi (Spanish)
Service
Camp Kesem
Hamline University Dance Marathon
Pipers C.A.R.E.
Social/Recreational
Broke and Starving Writers
Delta Tau Sorority
Hamline Handball
Hamline Martial Arts
Hamline Outdoor Recreation Club
Hamline Synchronized Swimming Club
Hamline University Anime and Manga Club
Hamline University Programming Board
HU Gamer Group
Knit Wits
RISE Yoga Club
Rock Climbing Club
Theta Chi Fraternity
Spiritual/Religious
Better Together – National interfaith movement for community service
Gospel Choir
Hamline University Mindfulness and Meditation
Intervarsity Christian Fellowship
Jewish Student Life
Multifaith Student Alliance
Muslim Students Association (MSA)
Values in Action – Service opportunities for secular/non-theistic students
Student Publications
Two publications offer students hands-on experience in journalism and photography. Hamline students publish the Fulcrum, art and literature review; and the Oracle, the campus newspaper.
Inter-College Cross-Registration (ACTC)
Hamline University participates in a consortium of five Twin Cities private liberal arts colleges (Hamline, Macalester, St. Catherine, and St. Thomas in Saint Paul, and Augsburg in Minneapolis) called the Associated Colleges of the Twin Cities (ACTC). The ACTC combines the community atmosphere of a small liberal arts college with the diversity of opportunities of a large university. The purpose of the consortium is to employ the strengths of each college to the best advantage of all. Cross-registration is available without additional cost to the student, provided the coursework is relevant to a Hamline degree. Information is available at www.hamline.edu/actc.
International Study Away
Hamline encourages students to pursue study abroad, a popular and transformative experience that helps students become "compassionate citizens of the world." Interested students should make an appointment to meet with a study abroad advisor one year before they intend to study abroad. They will receive information regarding Hamline's approval deadlines, the various options for study abroad, and how to proceed in choosing which option is best for them. Policies and procedures for all study away programming can be found on the Study Away Student Handbook.
Students interested in a longer and more immersive experience should consider semester long off-campus abroad options. Hamline offers its own program, Hamline in York, in partnership with the University of York. Other institutional partnerships include:
Akita International University (Japan)
International College of Liberal Arts (Kofu, Japan)
Konkuk University (Seoul, S. Korea)
Metropolitan University of Prague (Czech Republic)
Mykolos Romeris University (Vilnius, Lithuania)
Shanghai University of International business and Economics (China)
The American University in Cairo (Egypt)
United International College (China)
University of Roehampton (London, U.K.)
University of Trier (Germany)
University of Westminster (London, U.K.)
Webster University (Accra, Athens, Bangkok, Beijing, Geneva, Leiden, Shanghai, and Vienna)
This is not an exhaustive list, so students whose needs cannot be met through one of our institutional partners should meet with the study abroad advisor to discuss programs provided through one of Hamline's other affiliations, such as the Higher Education Consortium for Urban Affairs, Inc. (HECUA), the Council on International Education (CIEE), and School for International Training (SIT). Other study away programs may be considered, pending approval from the Director of the Global Engagement Center, and academic adviser (when related to major requirements).
Students applying for semester or summer study away programs should be in good academic standing with a minimum GPA of 2.5. The application process requires students submit a plan of study in their major or minor field, and rationale for how study away aligns with their immediate or future academic goals. Applications for study away are managed by the Global Engagement Center's online system (StudioAbroad).
Deadlines
Academic year - April 15
Fall Semester - April 15
J-Term - November 5
Spring Semester - November 15
Summer Program Provider - April 15 
Students can take their study abroad semester at any time during their studies at Hamline except for their first year or the last semester of their senior year.
Hamline also offers shorter study abroad options during the winter (J-term) term and late spring (May-term) May/June. These courses are led by Hamline faculty and are designed to serve the largest possible number of students from diverse +academic backgrounds. The courses take place in a wide variety of global and domestic locations. For a sample of courses that have run in the past, please refer to the GEC website or online newsletter.
In addition, students opting to study away or pursue an internship abroad during the summer can choose from a wide range of provider programs with which Hamline has an established affiliation.
The possibilities for study away are endless so students should be proactive and meet with GEC staff for more details.
All study away programs approved by the GEC will allow the transfer of academic credit and count toward the student's matriculation. Students may also be able to use their Hamline scholarships or financial aid to help finance their programs.