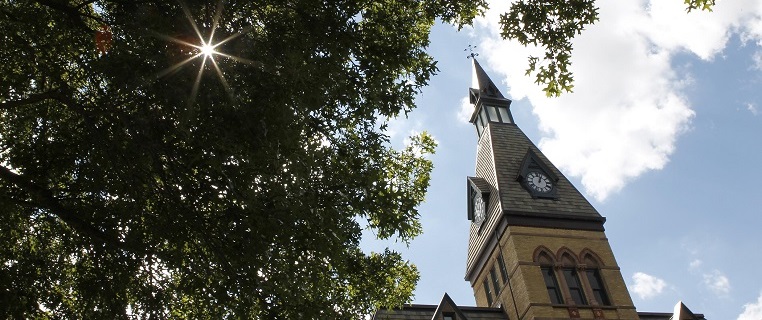 ---
Mission, Values, and Vision
Mission
To create a diverse and collaborative community of learners dedicated to the development of students' knowledge, values and skills for successful lives of leadership, scholarship, and service.
Values
Hamline University recognizes its roots in the traditions and values of the United Methodist Church. Through our personal and collective effort, we will make a lasting difference in the world as we aspire to the highest standards for:
Creation, dissemination, and practical application of knowledge
Rigor, creativity, and innovation in teaching, learning, and research
Multicultural competencies in local and global contexts
The development and education of the whole person
An individual and community ethic of social justice, civic responsibility, and inclusive leadership and service
Vision
Hamline University will be recognized as a diverse, learning-centered university that is:
Rooted in the tradition of liberal education
Dynamic and actively inclusive
Locally engaged and globally connected, and
Invested in the personal and professional growth of persons
The Hamline Tradition
Hamline University was Minnesota's first university, founded in 1854 by a group of visionary Methodist ministers and educators to provide education, leadership, and service to the frontier peoples of the Minnesota territory. Hamline's affiliation with the United Methodist Church complements its liberal arts tradition by encouraging the exploration of spiritual values within a social and cultural context. From that exploration comes an emphasis on the individual development of personal values.
Hamline educated and prepared Minnesota's first teachers, lawyers, judges, physicians, public administrators, and business people. This tradition has carried on for over 160 years, encouraging the exploration of spiritual values within a social and cultural context and fostering ethical leadership in service to society.
Hamline University offers bachelor's, master's, doctorate degrees-as well as certificates, professional development, and continuing education courses-to a diverse and select group of women and men. We also maintain an affiliation and collaborative relationship with Mitchell | Hamline School of Law, an autonomous law school created by the combination of Hamline University School of Law and William Mitchell college of Law. Today, Hamline University is a high-quality, top ranked liberal arts university with more than 3,500 students within the College of Liberal Arts, School of Business, School of Education, and in our relationship with Mitchell | Hamline School of Law. 
Graduate Programs at a Glance
Creative Writing Programs
Celebrating more than 25 years of rigorous study in creative writing, The Creative Writing Programs at Hamline have developed a national reputation.
Degrees offered: Bachelor of Fine Arts (BFA), Master of Fine Arts in Writing (MFA), and the Master of Fine Arts in Writing for Children and Young Adults (MFAC).
The BFA program is the only program of its kind in the Twin Cities and the only one offered by a private university in Minnesota. It is distinguished by its specializations in poetry, fiction, creative nonfiction, and hybrid forms; its location in the literary Twin Cities and availability of local presses and The Loft Literary Center; pre-professional opportunities to do an internship or serve on the editorial board of a national, online, literary magazine.
The MFA program is Minnesota's first graduate degree program in creative writing. It is distinguished by its flexible structure, allowing students to go full or part time; specializations in poetry, fiction, creative nonfiction, or hybrid forms; its support of multi-genre work; and pre-professional opportunities preparing to teach college composition and/or serving on the editorial board of a national literary magazine.
The low-residency MFAC is a full-immersion program boasting a three to five-to-one student to faculty ratio. The program brings students and distinguished faculty from across the country to campus twice a year for eleven days. Afterward, students work independently from home with a faculty advisor throughout the semester. 
MFA faculty are accomplished, award-winning, practicing writers who are also generous, highly effective teachers.
The Creative Writing Programs publish two national, annual literary journals–Water~Stone Review and Runestone–edited by the students in the programs. They also publish rock, paper, scissors, edited by students in the MFA program and publishing work by students in the program.
Graduate Legal Education
Hamline's Graduate Legal Education program is intended for the non-lawyer. It is aimed at helping individuals understand how the law relates to their current expertise and, in a broader sense, how their work affects, and is affected by, the American legal system.
Degree offered: Master in the Study of Law (MSL); Paralegal Certificate
The MSL program is consistent with Hamline's mission as an urban, liberal arts university and extends important benefits of a legal education, including critical thinking, advocacy, and problem solving skills to students.
MSL students come from a variety of areas such as business, human resources, health care, journalism, real estate, and government agencies.
Admissions: 651-523-2900 or 1-800-753-9753
gradprog@hamline.edu
School of Business
Hamline's School of Business offers master's degrees in all three economic sectors of government, business, and nonprofit. In addition, students can earn a doctorate in public administration, dual degrees, and professional development certificates.
Degrees offered: Master of Business Administration (MBA); Master of Nonprofit Management (MNM); Master of Public Administration (MPA); Doctorate of Public Administration (DPA). Joint master's and juris doctor degrees (in collaboration with the Mitchell Hamline School of Law), sequential degrees, and dual master's degrees are offered as well.
The Doctorate of Public Administration was the upper Midwest's first such program.
International student body provides a distinctive learning atmosphere in which cross-cultural, as well as cross-sector, exchanges occur.
Concentrations in business include international management, conflict management, marketing, and finance.
Continuing studies seminars and certificate programs focus on current and relevant subjects to professionals in businesses, government, and nonprofit organizations.
Admissions: 651-523-2900 or 1-800-753-9753
gradprog@hamline.edu
School of Education
For more than thirty years, Hamline's School of Education has inspired, challenged and transformed educators to improve learning for all children. More than 10,000 students have grown professionally through Hamline's quality educational coursework taught in a community of adult learners who value intellectual challenge and scholarship in an environment of mutual respect.
Degrees offered: Doctorate in Education (EdD); Master of Arts (MA) in Education (MAED); MA in Education with an emphasis in Natural Science and Environmental Education (MAED:NSEE); MA in Literacy Education; MA in Teaching (MAT), which provides initial licensure for new teachers; and MA in Teaching English to Speakers of Other Languages (MATESOL).
Home to nationally recognized programs and centers, including second language teaching and learning, literacy, the Center for Global Environment Education, and the Center for Excellence in Urban Teaching.
The school's ESL program, the largest in Minnesota, is internationally recognized.
Licensure (including principal, superintendent, and special education director), certificate, and continuing education programs serve more than 8,000 educators annually.
Admissions: 651-523-2900 or 1-800-753-9753
gradprog@hamline.edu