2008-2009 Undergraduate Bulletin
[Archived Bulletin]
2008-2009 Undergraduate Bulletin
---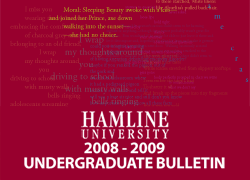 WELCOME TO THE ONLINE
HAMLINE UNIVERSITY UNDERGRADUATE BULLETIN
Access any information by using the keyword search
or the navigation bar to the left.


This year's printed Bulletin featured student creative writing selected in collaboration with the Hamline English department. To read the featured selections, go to Bulletin Creative Writing…The Complete Story at www.hamline.edu/english.
For more information on undergraduate admission, contact:
Office of Undergraduate Admission
MS-C1930
Hamline University
1536 Hewitt Avenue
Saint Paul, Minnesota 55104-1284
cla-admis@hamline.edu
651-523-2207 or 800-753-9753
www.hamline.edu
The courses and curricula described in this Bulletin, and the teaching personnel listed, are subject to change or cancellation by official action of Hamline University. Failure to read this Bulletin does not excuse students from the requirements and provisions described herein. In addition, students are encouraged to familiarize themselves with the policies and procedures of Hamline University early in their collegiate careers.
---