2006-2008 College of Liberal Arts Bulletin
[Archived Bulletin]
2006-2008 College of Liberal Arts Bulletin
---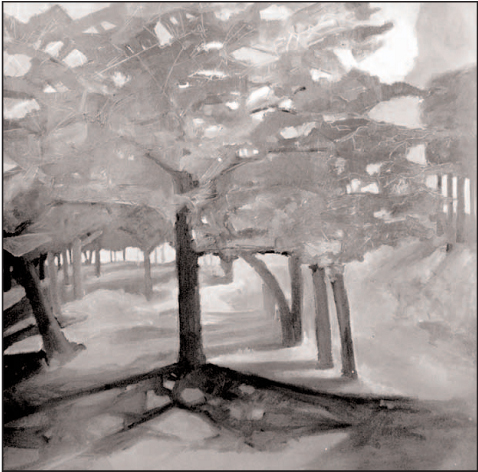 Landscape painting by Megan M. Johnson, studio art major, class of 2007 © 2006 Megan M. Johnson
HAMLINE UNIVERSITY COLLEGE OF LIBERAL ARTS
1536 Hewitt Avenue
Saint Paul, Minnesota 55104-1284
For more information on undergraduate admission, contact:
Office of Undergraduate Admission
MS-C1930
Hamline University
1536 Hewitt Avenue
Saint Paul, Minnesota 55104-1284
cla-admis@hamline.edu
651-523-2207 or 800-753-9753
www.hamline.edu
Applications for admission and employment, students, employees, sources of referral of applicants for admission and employment, and all unions holding collective bargaining agreements with Hamline University are hereby notified that this institution does not discriminate on the basis of race, color, creed, national origin, ancestry, sex, disability, age, religion, marital status, sexual orientation, status as a disabled veteran or veteran of the Vietnam era, status with regard to public assistance, or any other classification protected by applicable law. Any person having inquiries concerning Hamline University's compliance with the regulations implementing Title VI and Title VII of the Civil Rights Act of 1964, Title IX of the Education Amendments of 1972, the Americans with Disabilities Act, or Section 504 of the Rehabilitation Act of 1973 is directed to contact the Office of the Dean of Students, Hamline University, 1536 Hewitt Avenue, Saint Paul, Minnesota, 551041284, 651-523-2421. This office has been designated by the university to coordinate its efforts to comply with the aforementioned regulations. Any person may also contact the Assistant Secretary for Civil Rights, U.S. Department of Education, regarding the institution's compliance with these regulations.
Hamline University further abides by its own nondiscrimination policy which states: Hamline University does not discriminate on the basis of race, color, national origin, ancestry, sex, disability, religion, age, sexual orientation, or veteran status in its education or employment programs or activities.
The courses and curricula described in this catalog, and the teaching personnel listed, are subject to change or cancellation by official action of Hamline University. Failure to read this catalog does not excuse students from the requirements and provisions described herein. In addition, students are encouraged to familiarize themselves with the policies and procedures of Hamline University early in their collegiate careers.
---